I love DIY and redesign, and this is what came out of some old pair of jeans 

///

 

Jeg elsker redesign og dette er hva som kom ut av noen gamle dongeribukser!
---
A couple of years ago I made an assignment for the 8th grade students in the design- and redesign class I was teaching, where each student got one pair of jeans, and they were told to make these into something else. They had to use as much of the fabric as possible, but they were allowed to bring in other fabrics and materials as well, and they could make more than one item.
After giving each student their pair of jeans I was left with two pairs, and I figured I would make something as an inspiration, to show the students that the jeans could be transformed into something else than the typical bag, mini skirt or pair of shorts. I had just become an aunt so I was in quite the baby mood, and the choice fell on a teddybear. I wanted to keep within less than half of the time frame that the students were given on the assignment, it wouldn´t be fair otherwise since I have a lot more experience, and ended up using 1/3 of the time frame. This project is not for beginners and was just an inspiration, but some of the students would´ve been able to pull it off with my help.
///
For et par år siden var jeg lærer i valgfaget Design og Redesign på 8. trinn, og da lagde jeg en oppgave til dem der de fikk utdelt hver sin dongeribukse som de så skulle gjøre om til noe nytt. De måtte bruke så mye av buksen som mulig, men de kunne også bruke annet stoff og materialer, og de kunne lage mer enn et produkt om det var ønskelig.
Etter at alle elevene hadde fått utdelt hver sin dongeribukse var det to bukser til overs. Jeg fant ut at jeg ville lage noe som inspirasjon, for å vise elevene at dongeribuksen kunne bli til noe annet enn den typiske vesken, miniskjørtet eller shortsen. Jeg hadde akkurat blitt tante, så jeg var i babymodus, og valget falt på en bamse. Jeg ville holde meg under halvparten av tidsrammen som elevene hadde fått på oppgaven, fordi det ellers ikke ville bli rettferdig, siden jeg har mye mer erfaring. Jeg endte opp med å bruke 1/3 av tiden som elevene hadde på seg. Dette prosjektet er ikke for nybegynnere, og var bare ment som inspirasjon, men et par av elevene mine var så flinke at de fint hadde klart det med litt hjelp.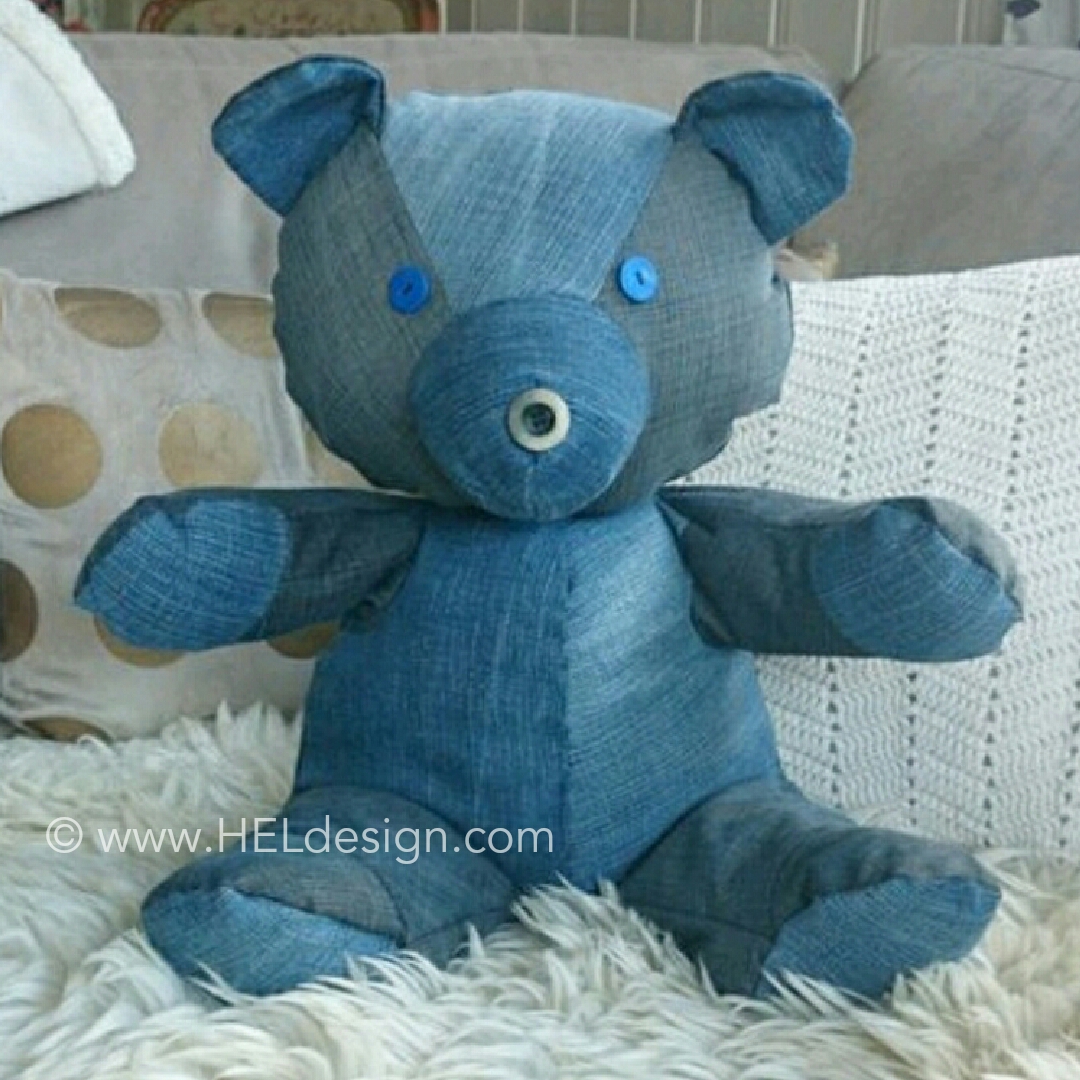 I used half of each pair of the leftover jeans since they were in two different shades. I downloaded a lovely pattern from the internet, cut out the pieces and sewed everything together. I used 3 old buttons for the eyes and nose, and the stuffing is some old and ugly curtains cut into pieces. This made the teddybear quite heavy, so I ended up filling the upper half with regular stuffing.
///
Jeg brukte halvparten av hver av de to dongeribuksene som var til overs, siden de var i to forskjellige nyanser. Jeg lastet ned et mønster fra nettet, klippet ut delene og sydde alt sammen. Jeg brukte 3 gamle knapper til øyne og nese, og fyllet er noen gamle og stygge gardiner som jeg klippet i biter. Dette gjorde at bamsen ble veldig tung, så jeg endte opp med å fylle øverste halvdel med vanlig vatt.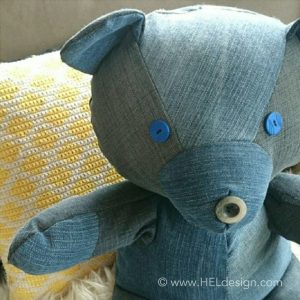 So this is one way to reuse a pair or two of old jeans. Have you redesigned something from old materials? I´d love to see it! 🙂
You can find the pattern here!
///
Så dette er en måte å skape nytt liv i noen gamle dongeribukser. Har du redesignet noe av gamle materialer? Fortell meg gjerne om det! 🙂
Mønster til bamsen finner du her!
---