https://heldesign.com/redesign-knitted-sweater-turned-into-crochet-blanket/
See how my old knitted sweater turned into a crochet rug! /// Se hvordan min gamle strikkegenser ble til et heklet teppe! 
---
DESIGN AND PATTERN: HEGE ESPELAND LYGRE
---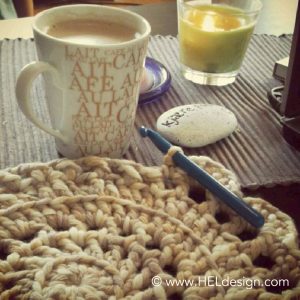 More than 10 years ago I had a knitted sweater that didn´t fit. But I liked the yarn so I put it in a bag and it was long forgotten, until last winter when I was going through some boxes in my garage.
One day I decided to make something from the yarn and since it was so thick and heavy I figured I´d make a rug out of it. So I found a large crochet hook and startet crocheting. I didn´t have a pattern so the rug emerged by each stich.
///
For over 10 år siden hadde jeg en strikkegenser som ikke passet. Men jeg likte garnet veldig godt, så jeg rakk opp hele genseren og endte opp med nøster i 3 farger. Så ble de pakket ned i en pose og glemt, helt til i fjor vinter da jeg var hjemme på Bømlo og hadde en sortering i esker i garasjen min (jeg eier et hus der), for der dukket plutselig den lenge glemte posen opp igjen.
En dag bestemte jeg meg for å gjøre noe med dette garnet og fant ut at jeg ville lage et gulvteppe av det siden garnet var såpass tykt. Så det ble frem med en stor heklenål, og så satte jeg i gang. Jeg hadde ikke noe mønster å gå ut i fra så teppet formet seg for hver maske.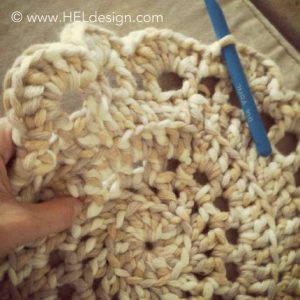 As you can see it got quite thick… /// Som dere ser så ble det ganske tykt…
When I had only 19 stitches left I ran out of white yarn. Now isn´t that just typical! And as the perfectionist that I am I undid almost half the rug, to change one row of double crochet to single crochet, cause then I would have enough yarn to finish the rug.
///
Da jeg hadde bare 19 masker igjen gikk jeg tom for det hvite garnet. Er det ikke typisk! Og som den perfeksjonisten jeg er, så rakk jeg altså opp halve teppet, for å gjøre den ene omgangen med staver om til fastmasker, slik at jeg skulle få nok garn på slutten.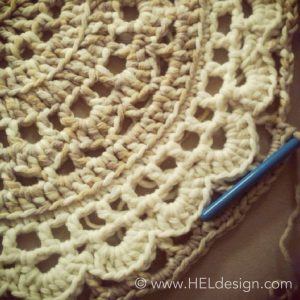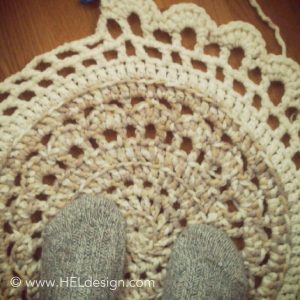 The finished rug measures almost 26 inches, that´s when I ran out of yarn. I did have some leftovers to make a few small baskets too.
///
Gulvteppet ble 65 cm i diameter, da var jeg tom for garn. Et par små kurver ble det også av restene.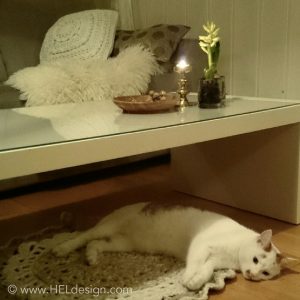 So my old knitted sweater got a new life, and it´s one of my cat´s favorite places, he loves cuddling up on it.
///
Så den gamle strikkegenseren fikk seg et nytt liv, og er et av yndlingsstedene til katten min, han elsker å kose seg oppå der.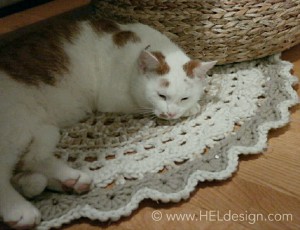 ---
Do you want to make your own crochet rug? If you can´t do it without a pattern you can find a pattern on a doily that you like. Find some thick yarn or cut strips of fabric, use a large crochet hook (I used a 10 mm hook), and start crocheting!
Good luck! 🙂
///
Har du lyst å hekle ditt eget gulvteppe? Dersom du ikke klarer å hekle uten oppskrift kan du finne en oppskrift på en liten rund duk som du liker godt. Finn frem tykk tråd eller klipp opp remser av tøy, bruk en stor heklenål (jeg brukte nr.10) og sett i gang!
Lykke til! 🙂
---